Oh yeah... one of those threads. You get to spill all your hate and make it go into oblivion.
I hate many things but the particular things that made me start a rant are plugs. Yeah, those horrible beasts. The ones I hate in particular are polarized plugs, transformer plugs, and a combination of both.
Just look at this crap:
WHY IS THAT NECESSARY??? Why do they have to go only one way? The output in the wall alternates anyway so that makes the polarization POINTLESS.
I think transformer plugs are pretty self-explanatory. Just look at this horrible beast:
D: ... Why can't it be like this:
Oh that's right, because some manufacturers are just straight up morons. Sony doesn't have the transformer plug problem. They either build it into the power supply or if they can't fit it (in the above case of the slimline ps2 plug) they put it in the middle of the wire so that it doesn't hog all the plugs in the wall.
The worst are a combination of both. This is the brink of stupidity. Not only does it hog a large amount of space, you also can't flip it over to fit another space hungry monster. If you got two of these: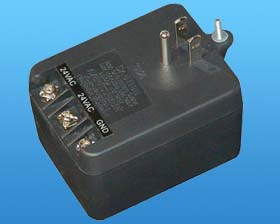 You're just straight up out of luck. The manufacturers are laughing all the way to the bank as you struggle to fit all that plastic in the tight area that is your wall socket.
[/end rant]
I'm done... This post isn't complete as I also hate ketchup, songs that repeat, stratocaster guitars, and Indie rock. Do tell about your most hateful things that are insignificant. I love rants ^.^
Last edited: