Ghost, Hybrid, or Pure Trap?
Well as many of you know, the ladder is resetting soon. When it does, my trapper will be converted to NL. I'm strongly thinking about remaking her into one of the following:
~Hybrid WW/Trapper~
~Ghost~
-or-
Keep it at LS, but remake.
The one I'm most interested in is probably the hybrid, because of the gear I have. Here's a few questions:
1.) Which build do you think I should make, to handle most other builds.
2.) Which gear/set-up do you recommend for the build that you recommend?
Here's a few screenshots of some goodies for a could-be Hybrid: (These might not show up right due to the fact that they were originally posted on another forum. I posted the stats under the code.
Helm:
2Assassin
20FCR
26Strength
87Attack Rating
1Open Socket
I think this would be a GFG helm for a hybrid or ghost sin.
FCR Crafted Ring: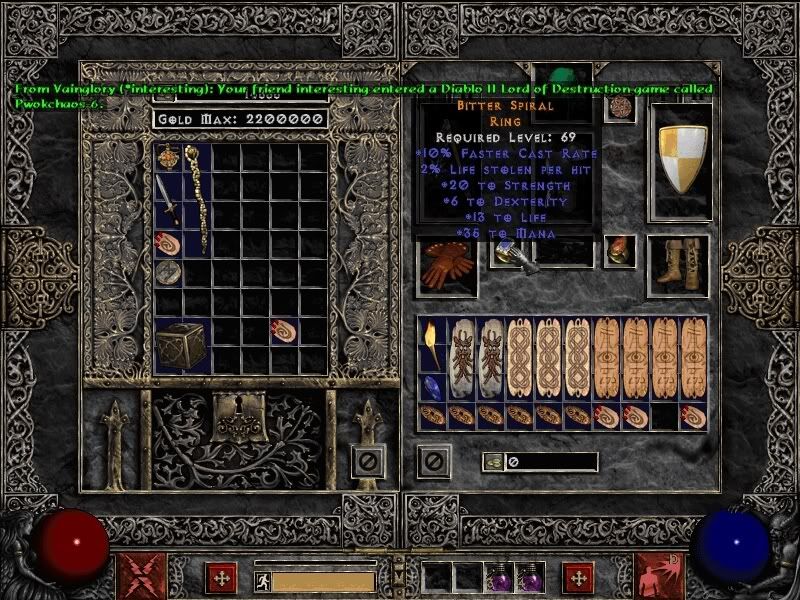 10FCR
2LL
20Strength
6Dexterity
13Life
Another GG option for any of the builds.
35Mana
I pulled a dumbass move (considering the ladder is resetting) and gave away my claws to a freind, so I'm praying he still has. The claws were pretty decent:
Chaos Runic Talons
2Lightning Sentry
Fury Feral Claws:
1Venom
2Mind Blast
I won't actually make this character for a while, and when I do I'm remaking the BvC also. I would like to wait til I have all or close to all of the gear.
Open for ANY and ALL help and recommendations.